MD Instruments in Muskegon, Michigan, now performs infrared calibrations. We have expanded our Scope of Accreditation to include calibration of infrared instruments, sensors and black body radiation sources to cover the following temperature ranges:
50 to 500°Celsius (122-932°Fahrenheit)
For wavelengths λ between 8 and 14 µm
300 to 1200°Celsius (572-2192°Fahrenheit)
For wavelength λ of 1.6 µm
These ranges cover most hand held IR sensors and instruments for many industrial processes.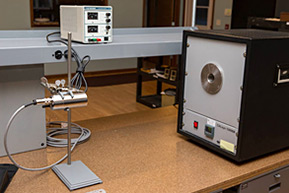 Pricing for Infrared Calibration
Contact us today for pricing. Price for calibration is based on the number of temperature points requested.